Our Stress System Refurbishment Process
hjacobs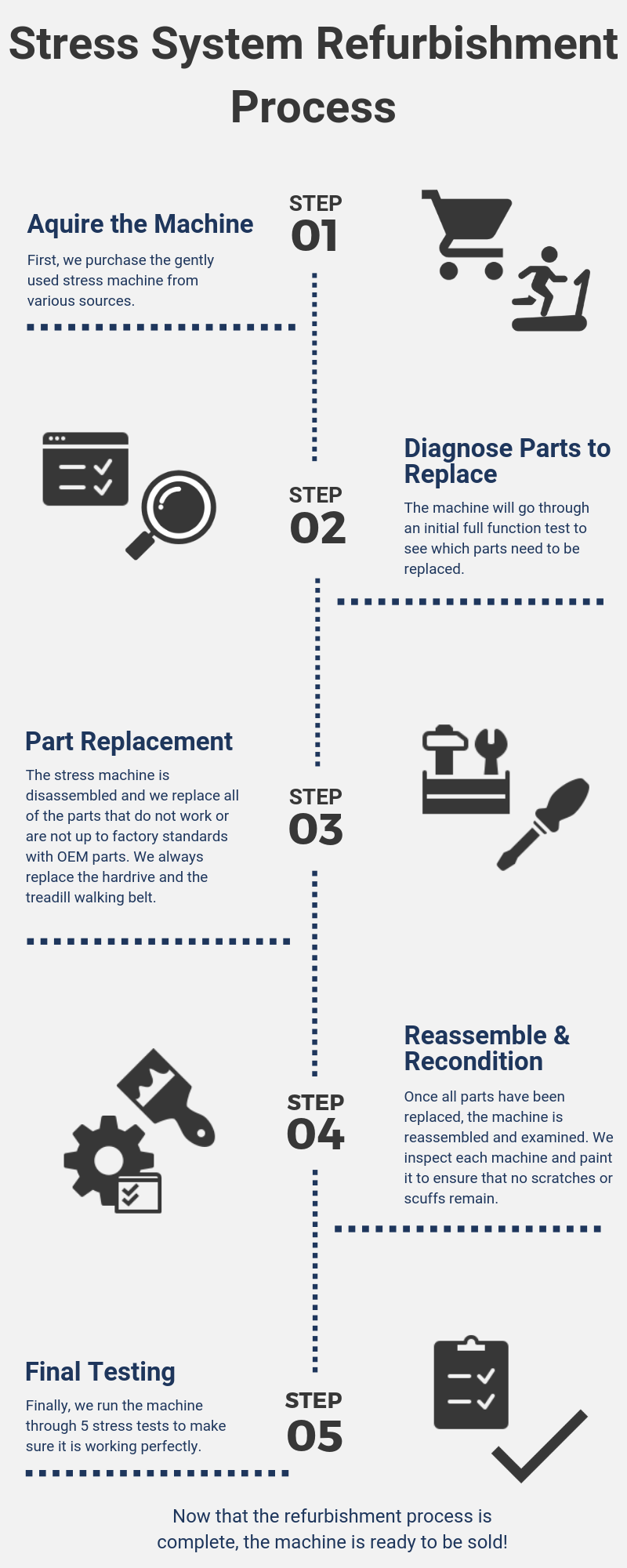 What is a refurbished machine?
New, refurbished, and used medical equipment are all different, so it's important to understand each before deciding which would be best for your budgeting needs. New equipment is the most expensive type of medical equipment, while refurbished machines are only a fraction of the price for the same quality. Refurbished machines are a great alternative because medical equipment can be extremely expensive, but the quality of the machine is crucial in order to deliver the best possible patient care. Although refurbished equipment does not come straight from the factory, it isn't comparable to "used" equipment. Refurbished equipment comes with a guarantee that it will perform as well as a new machine because it's been thoroughly tested and repaired by trained medical technicians, while used equipment is sold "as-is." When purchasing one of our professionally refurbished machines, you can be confident that you will not be sacrificing quality or functionality. 
There are different levels of medical device refurbishment: visual refurbishment, parts replacement, and full refurbishment — which is where a device is completely overhauled. Every refurbished stress machine that you purchase from us is fully refurbished and has been tested numerous times to ensure that it is up to factory standards. Each stress machine goes through a strict inspection process, as well as thorough testing by a trained professional. The result is a refurbished machine that is just as functional, but only a third of the cost as a brand new machine. 
How is a stress machine refurbished?
When a stress machine is refurbished, the systems go through an initial test to assess how well it is working. After running initial tests, we diagnose each part that needs to be replaced. Every individual peripheral printer, Pre-Amp, monitor, CPU and treadmill goes through extensive testing. The next step in the refurbishment process is to disassemble the machine and replace the parts that are not working correctly or are not up to factory standards. Each treadmill will be fully disassembled, and the walking belt will be replaced. The hard drive will be replaced so that it's brand new, and it will get a new image and application loaded onto it. When we replace parts in our refurbished machines, it is always with Original Equipment Manufacturer (OEM) parts. This process is only done by trained professionals who understand each part completely, to guarantee that the product will meet or exceed OEM specifications. Once we ensure that each part has been properly replaced and tested for functionality, the stress machine will be reassembled. After the machine has been re-assembled, it will be reconditioned to appear brand new. We begin the reconditioning by inspecting each machine to ensure that no scratches or scuffs remain. Before a refurbished stress machine is deemed ready to be sold, each part of the machine will receive a fresh coat of paint so the appearance matches that of a new machine.
Before the refurbishment is complete, we run the stress machine system though at least five full stress tests to ensure functionality and quality. Generally, a stress EKG test is utilized by doctors to understand how well their patient's heart reacts to physical activity. During this test, a patient will walk/run on a treadmill or pedal on a stationary bike to reveal problems with blood flow to their heart. A stress EKG test can aid a doctor in making decisions about how to best treat their patient or understand if their current level of activity is sustainable for their health. 
Why buy a refurbished machine from us?
For over 8 years, our technicians have been successfully refurbishing stress machines in order to give our customers the highest quality of care at reduced prices. We have a warehouse and offices located in Ventura, CA, that are dedicated to our stress machines and the refurbishment process. A typical new stress machine on our website costs upwards of $21,000, while one of our refurbished stress machines can be as inexpensive as $6,000-$8,000. We want you to be satisfied with your machine, so all of our refurbished systems come with a 1 year parts and labor warranty that can be extended to 4 years if you choose. 
Refurbished stress machines are a great option if you're searching for a machine that is high quality, but still affordable. Our promise to you is that each refurbished machine will meet the same standards that we have for our brand new products. If there is a product that does not pass our rigorous inspection and testing process, it will not be sold.